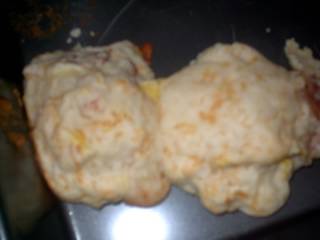 I've made bacon, egg and cheddar scones twice now. They were so easy to make!I have made scones from scratch using this
recipe
and also using Bisquik. I think I actually got this method from an episode of Rachael Ray. And honestly both recipes tasted and felt the same. I don't have any problem getting help with baking. I figured Bisquik is just measured dried ingredients. I am sure you can use tons of other ingredients for variety. Like spinach and cheese, pepper and cheese. Below is my recipe for the Bisquik scones. Hope you enjoy!
Faked out Scones
2.25 cups of bisquik
2 1/3 cup of milk
1 egg scrambled
3 pieces of bacon cooked
1 cup of cheddar shredded
Form into balls or blobs. The dough will be sticky. It is ok. Bake between 8 to 10 minutes at 450. You can also reheat in the microwave for 30 seconds. They also freeze well. If they are frozen try reheating for a minute in the microwave. I would start low instead of high.