Last Wednesday after work my friend Isabel and I continued our eating through New York get togethers. This time we tried
The Delta Grill
on 9th Avenue. Another coworker had recommended the place to me. Isabel and I both tried the Fried Cheese Grits smothered in chicken Creole and for our side dishes we ordered Fried Sweet Potatoes and Hushpuppies. The grits weren't cheesy enough for me. But I'm a big cheese lover. And I've had better Hushpuppies at Bubba Gump Shrimp. The ones at Delta were dry and not very flavorful. Bubba Gump Shrimp's are moist, and have cheese and seafood in it. Delta seemed to be more focused on ambiance(string lights and Americana decor) and food presentation(like a painting on your plate) rather than the taste of the food. Which is surprising because 9th Avenue has really stupendous eateries. It's too bad because I would have gone back to try their Fried Green Tomatoes, Deep Fried Shrimp Po' Boys and Muffuletta.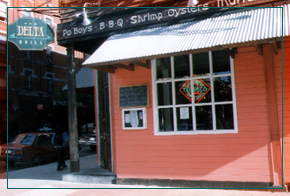 Pic from Delta website
Please also take a look at the newest
wreathe
I made.
Song Stuck In My Head: "Cigaro" by System of a Down