A few weeks back my coworker Dan took me to lunch for my birthday. We went to eat at the Chelsea Grill on 9th Avenue. The original restaurant is in the Chelsea section of Manhattan; this is their sister restaurant in the Hell's Kitchen area of Manhattan. Chelsea Grill is beautifully decorated with warm colors and has soft leather couches. The food was equally inviting. The waitress gave us a free basket of their oven baked chips. And they were crispy and flavorful. For lunch we both ordered their BBQ pulled pork sandwich accompanied by their zesty waffle fries. I highly recommend this restaurant if you are looking for a delicious place to dine in NYC. They also have a nice looking bathroom. That's important. LOL. After lunch we walked a few blocks up to Fluff, a small sandwich and dessert place. It's a modern looking eatery with large butterflies hanging from the ceiling. They make everything on the premises and recreate childhood favorites such as snowballs(fluff balls), twinkies(flinkies) and sell fresh marshmallows. I brought a fluff ball and decided to take it home and share it with
Niel.
My God it was heaven in our mouths. The cake was fresh, moist and so flavorful. I think I may have to go back. For info about dining on 9th Avenue go
here.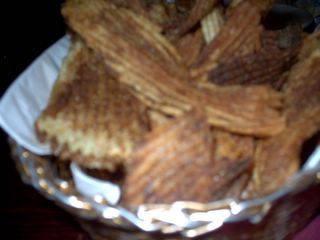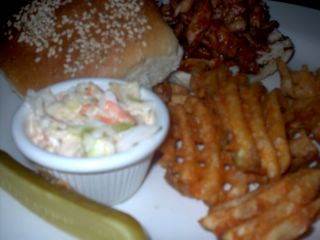 And a very big good luck to our friends Jennifer and Renzo!!
Song Stuck In My Head: "You put the lime in the coconut" by Harry Nilson
(as heard in the recent Coca Cola commercial)