It's so very nice to be part of the blogger community. I have met some really neat people and are involved in great projects and surprises. It's wonderful that so many people can meet this way. My favorite part is that many people are involved in a variety of things and is not exclusive.
I want to thank
JustJenn
for allowing me to be a part of
Leslie's
surprise internet baby shower. I am very happy it was a success and thank you very much for the shower favors!!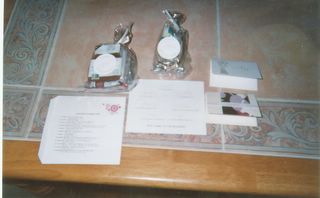 Thank you also to
Sweetpea
for asking me to be a part of a
Journal's Journey.
It has been wonderful to try to come up with ideas for my page and seeing all the other participant's lovely pages.

And also thanks to
Tammy
for your neat
Haremail
project! I had a lot of fun looking for goodies. Thanks also for my cool exchange
partner!
She rocks!
I also can't wait for
Gifty Round 3
created by talented and kind
Leslie
!