Niel's
back is thankfully getting better. It's taking a bit of time to improve, but at least he is able to move around a bit more. I am glad he listened to his chiropractor and did not do any moving this Saturday. He offered to help his mother's younger sisters move from one apartment to another. But his doctor vetoed that.
Niel and I got to eat some "exotic" food this Saturday. Niel enjoys trying out meats that few would consider eating. We've had alligator, frogs legs, ostrich, shark, emu and kangaroo. And Niel has had Biason before. I know Niel's been wanting to try bear for a while now so I did some research and found this
Czeck
place in Astoria that during hunting season offers game. He got to eat bear, venison and wild board. Probably from the three items, I would say bear was the most exotic. The restaurant is decorated with pictures of various areas of the Czeck republic as well as traditional clothing and items for the home. We were having a bit of fun wondering what his meal would look like. Both of us had tried most of the other menu items (rabbit, duch, pheasant and quail)at other times, so I just ordered something called Bohemian Saurbrauten. I figured for variety we could try each others dishes. I think I might find another place that serves game. The meal was a bit too covered in sauce.
Sunday we attended a special mass for the 25 anniversary of Niel's father's passing. It was at my mother in laws church and it was in Spanish. I really enjoy the music that is played at the Hispanic masses a lot. It is very festive. Afterwards we did some laundry. Because of the storm and Niel's back this was the first weekend we were able to go out and ended up doing 12 loads of laundry literally! Then we came home and watched the superbowl. I was folding and putting away our clean clothes in the bedroom and every now and then I would come into the living room and look at the game. I think games where the score is so close are much more exciting. Plus I enjoyed Sir Paul McCartney's performance. I could watch him any day!
Read my
review
of
The Wedding Date.
Below are fuzzy pictures of our meals from Saturday.
Niel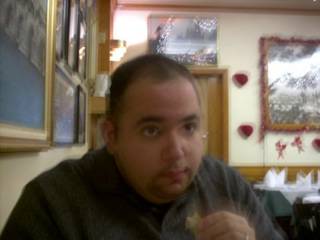 Traditional Garb

Horns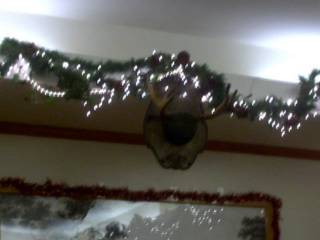 Appetizer of Pate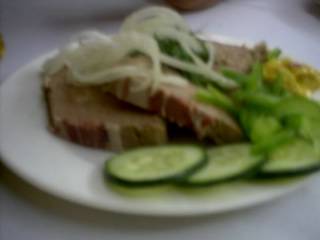 Niel's Game Feast

Bohemain Saurbrautten

A very Happy Birthday to my grandma. She is my mother's mom and I miss her very much. I wish we lived closer so we could see one another more. I miss seeing her daily and her wacky sense of humor. I heard a story where she chased her younger sister's with a mouse for laughs. I love you Mezma.