Niel
and I had lunch yesterday. We don't get to do that too often because we don't work close to one another and we normally brown bag. We ate at
Bubba Gump Shrimp.
It was fun because our waiter quizzed us on facts about the movie(Forest Gump), there were two birthdays that day so the servers sang to them, I also spilled some water. It was a nice hour spent. I felt totally like a tourist.
Bubba Gump Shrimp

Restaurant

Outside View

Niel deciding what he wants

Birthday singing

More birthday singing

Table sign if you don't need your server

Table sign if you do need your server

The food was delicious. I have been there twice now and have not been dissapointed. I finally tried their Hot Artichoke dip and it was to die for. It was so cheesy! I also enjoyed their hush puppies. I usually do not like hush puppies but there's had bits of corn, cheese, shrimp, scallion and crab in it. Yum yum.
Our Appetizers of Chilled Shrimp, Asian Chicken Bites, Delicious hot artichoke dip, the best hush poppies and breaded shrimp and some nachos.

Tour Bus

Later on we walked over to
Jamba Juice .
which opened up a midtown location a few months ago. Now only if an
In And Out Burger
,
Sonic
and a
Jack In The Box
would open up in NY. On the way we saw Ivory from the
WWE
shooting an episode. She was kind enough to let us take a picture of her.
Ivory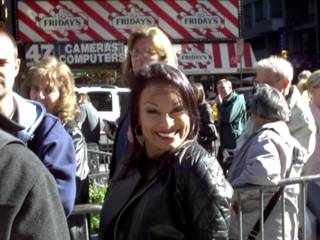 Jamba Juice

Jamba Juice was quite tasty. They have a lot of different flavors. I got a strawberry banana combination.
Mmmy yummy