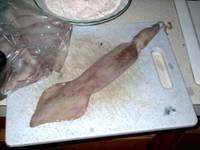 The squid I used last night to cook Calamari.

As you can tell Blogger has photo options now. So I can put up more pictures. I am still trying to figure it out.
The
Calamari Fritti
with Marinara sauce was the appetizer and for dinner I made Chicken Cacciatore*. I did not use the biscuits in this particular recipe. Wednesday night we had
Pot Pies.
I used ground turkey instead of beef for that particular recipe. I think I like Tuesday's Pot Pie a lot better. The turkey bits were whole and the sauce was creamed chicken soup.
I don't usually make an appetizer. It's one main meal with salad. But, Niel loved the Calamari Fritti. It tasted a bit fishy to me. I guess because the squid I brought from the Asian market was so fresh. So I think I might soak the squid in lemon juice(I got this tip from a coworker)next time to take out the fishy taste. There was also black watery stuff oozing out of the squid, which I know is expected, but still grossed me out. The skeleton of the squid looked like plastic. It was very clear. I don't really know, maybe the fish monger put plastic in the squid to make it straight?
*
Chicken Cacciatore
(a la Pillsbury)
2.5 to 3 lb cut up frying chicken
1/2 medium green pepper, cut into strips
2 cups fresh mushrooms
1 jar spaghetti sauce(I used crushed and added Italian seasonings)
1/4 cup chopped onion
1 teaspoon oregano leaves crushed
Heat oven to 375 F. Spray a large nonstick skillet with nonstick cooking spray. Heat over medium high heat until hot. Add chicken and cook until browned on both sides. Place browned chicken in ungreased baking dish and top with veggies, sauce and seasonings. Cover with foil and cook for 45 minutes.