Niel
and I visited with Jennifer, her husband Renzo and their baby girl yesterday. Their baby is the sweetest thing. Very smart, active and verbal. She enjoys being a part of the conversation. I finally was able to give the baby blanket I knit for her to use for riding in the stroller. I know your not supposed to cover a baby with a blanket while sleeping. Atleast not that young. I used 8 large rolls of multi colored light weight cotton. I cast on 156 stitches across and 8 stitches made one inch. So it took a lot of knitting to make the blanket. Does that make sense? I am still new at this. On the other side of the blanket I covered it with a Peter Rabbit fabric. I thought it would look cute. I am miffed at myself because I took way too long to make it. I kept doing the blanket over and over again. Still not happy with the outcome but Jennifer and Renzo as usual were very gracious. I hope to be able to get better. We did enjoy the visit. They are a very nice and sweet family and we are happy to be around good people. Niel and I hope to visit more often. Below are pictures of the blanket and here are
pics
of the blanket from its beginning stage to now.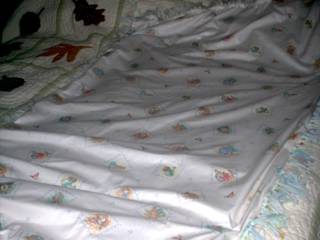 I was really sad when the Friday Five was over. But then I found
Lisanne's
blog and found out that she started the
Friday Forum.
So here is my first of many Friday Forum questions. Let me know if you want to partake either on my comments or your blog. Sometimes I will have 10 questions since I found a lot of old ones I would like to use.
1)If you could choose any warm-weather or tropical destination for the *ultimate* winter getaway vacation, where would you choose and why?I would like to go to Hawaii. I have heard many nice things about it and one of my favorite cartoons and television shows takes place in Hawaii. Although I wouldn't mind staying in the ice hotel. How would you spend your time while there? I would site see and eat yummy foods. Do you have any winter vacation getaway plans this year? Unfortunately not.
2)Would you prefer living in a place that had temperate weather all year round, or do you enjoy the change in seasons? I do enjoy the seasons. Although it is difficult to remember in the freezing temperatures or extreme heat sometimes. What would be the perfect weather climate for you? About 50 to 60 degrees. Not too warm or too cold. Which season is your favorite? Fall. The leaves change and its not too cold or warm. And all my favorite holidays I like begin then.
3)Are you interested in weather? I do watch the weather forecast. Do you ever watch the 24-hour weather channels? No. Have you taken any weather and climate classes No. Would you ever want to be a "storm chaser" or a meteorological? No.
4)Do you think that thunderstorms are cool or scary? When I am inside they are cool. Were you ever afraid of thunderstorms as a child? Probably. Have you ever gone out and played in the rain? If its heavy rain its yucky. Light rain during a heat wave is nice. Does rain make you feel down, or do you love the rain? Same answer as before.
5)Have you ever been in a tornado, hurricane, earthquake, or other severe weather? Thank goodness no.