I took another three day weekend. After meeting my goals for work I needed to unwind. Thursday night we watched
The League of Extraordinary Men.
. It was a darn good movie. I liked the way it was shot. It sort of reminded me of the camera work that was used for the
Sherlock Holmes
Series on PBS.
Niel
has most Fridays off in the Summer so we spent the day together. I heard about some Dim Sum places in China Town from my coworkers Elaine and Isabelle (former). We tried to find the one Elaine suggested but that one (Silver Palace did not exist anymore). So we decided to try to go to the one Isabelle suggested Dim Sum Go Go. We got off on a different train line too many blocks from Dim Sum Go Go, but we luckily came upon another place. Or so we thought. The food ended up being not so good. The atmosphere was interesting because it was family style and very crowded. I was a little taken off guard to take any pictures. We did not stay long. We ventured off into Little Italy and found some very tasty desserts at
Caffe Palermo
. Niel had a Canolli and I had a Strawberry Sorbet. We hope to go back this Saturday for my mother in laws birthday as an early treat.
We walked around a bit more and purchased some neat magnets for the fridge and came home.
Magnets3

Magnet 2

Magnets 1

Saturday we ran errands, where I discovered there is a very inexpensive craft store a half a mile from my house. Almost three years we've been living in my town and now I discover that store. I found a lot of neat things that gave me ideas! We managed to get caught in the rain during one of our errands. Niel got pretty soaked. We stopped by to see my
brother
. and to dry off. He gave us some grape tomatoes which my parents are growing on their balcony. Much better tasting than anything in the store. We then came home in time to see the sun trying to come out from the clouds. The pictures we took from our kitchen window came out much darker then the sky really was. We watched Muslim in Texas on the
Trio
. channel(wow) and rented
Johnson Family Vacation
and ate some calzones I made from the leftover Italian sausage mixture I used the from the Stuffed pepper recipe.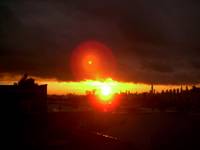 Sun Shots

Sunday we went to Niel's aunt's 80th birthday. She is his father's brother's wife and grew up on the same street as Niel's father's side of the family. That is how they all know one another besides marriage. Her name is Rose and she is full of life. She still likes to dance and have fun. For dinner I used up a left over pack of chicken and made enchiladas again. Yumm yumm!